About Us
Zoom Web Designs was set up in its present form in early 2002, built on the increase in website business formerly a part of McLeman QS Network (MQSN) and now forming its own separate division, to concentrate properly on the design of websites.
Andrew McLeman who set up MQSN in 1999 is a qualified Chartered Quantity Surveyor with 30 years experience in Professional practice. When he created his QS business, he wanted also to utilise his interest and skills in the Internet although initially targeted to the Building Industry.
It is that section from its 'word of mouth' success became a separate website creation division in 'Zoom' .
Andrew saw 'from the start' the huge potential of the Internet, and had already created his own personal site as far back as 1997 followed by the Kirk of Calder one in 1998. When he set up his businesses he naturally created websutes for his own businesses (McLeman QS Network, Construction-on-line and Building-Surplus) followed by sites for initially mainly construction companies (see examples but remember that over the years the skills have kept improving and our later sites are a better example of our current progress!)
While we 'knew' the Construction industry we initially thought we should concentrate on that area, but soon found that our skills were transferrable, and the important 'secret' was to get 'under the skin' of any business!
And the name - well you'd be wrong to think it was because we are 'fast' (although we are!)... and while you may also think we must be 'crazy' it is in fact named after my car registration, (and not the other way round)!
Here is a picture of ' A1 Zoom'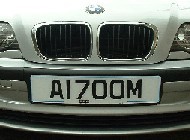 See Contact page for all address/telephone details
Home | Examples | Privacy | Testimonials | Details/Costs | Contact