| | |
| --- | --- |
| | The Queen's Award for Voluntary Service |
In 2004 The Yellow Teapot Club was awarded The Queen's Gold Jubilee Award (now called The Queen's Award for Voluntary Service) This was a huge achievement for such a small club and is a tribute to the dedication of the volunteers.
We believe that there is nothing better than seeing children achieving new
experiences and seeing fun and enjoyment out of old favourites.
To celebrate her Golden Jubilee, The Queen introduced a new, annual Award to reward excellence in voluntary activities carried out by groups in the community
It recognises the vital role played by the hundreds of thousands of 'unsung heroes' of the voluntary and community world and emphasises continuing recognition of their work.
The Award covers groups operating in the United Kingdom, the Channel Islands and the Isle of Man.
The number of Awards made each is be determined by the number and quality of nominations received. Awards are made to groups rather than to individuals.
For more details of the The Queen's Award for Voluntary Service Click here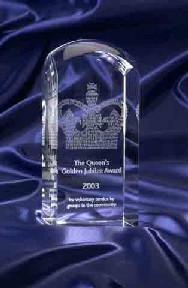 Elizabeth Stevenson from the Yellow Teapot Club was quoted the time of the award:

"Through the recognition the Award will bring, we are hoping to be able to attract more volunteers to help open up the social skills of these youngsters. We may even be able to access funding to benefit these children, whose lives have really improved due to the work and commitment of the volunteers".
.Home | Background | Volunteer | Donate | Contact