This is the website originally provided for Guests providing the details for Andrew McLeman and Annie Whitton's wedding held on Thursday 26th July 2007.and now it is all over......... provides Official photos and more Guest Photos now on the site.!
Main Details
The Marriage Ceremony was conducted by the Rev John Povey at the Kirk of Calder , Mid Calder... .....".Wonderful service!"

The Reception - was held at Best Western Hilcroft Hotel, East Main Street, Whitburn, .. "Great reception!!!!"

We were happy to entertain 110 friends and family at the reception (+ more at the ceremony) and 33 at our open day on the Friday. Guests had come from their homes in South Africa, New Hampshire, Sweden, England, Wales, Orkney and Shetland and even a few from this country!
If you also count the other nationalities there but living in the UK you would have to add New Zealanders, Australians, Indians, Americans, Rhodesians, - truly an International "Scottish" wedding ... and the first Scottish wedding for so many !
Click here to view video in external viewer

The Happy Couple


Rear : Andrew's sons Ewan + Neill (joint best men) Andrew and Annie , Annie's Daughter Fiona (Matron of Honour), Annie's son's Brodie and Greg (joint "Fathers" of the Bride) and in front the two Flower Girls - Tia (Annie's granddaughter) and Eilidh (niece of "Uncle Fronk and Miss Annie"!)

,

Everybody!



Photo above - Brodie , Fiona Andrew, Annie Neill and Ewan

Check out Andrew and Annie dancing with Annie's grandchildren Cody and Tia for Christmas
- You will love this, I promise Click here

The wedding was also featured in the Scottish wedding magazine Real Life Weddings Winter 2007 edition page 31 which you can view online at www.reallifeweddings.co.uk or download the pdf of "our" page here
Please leave a new message on our Guestbook
(Click on the button below to view)

Henry ..... stole the show!!!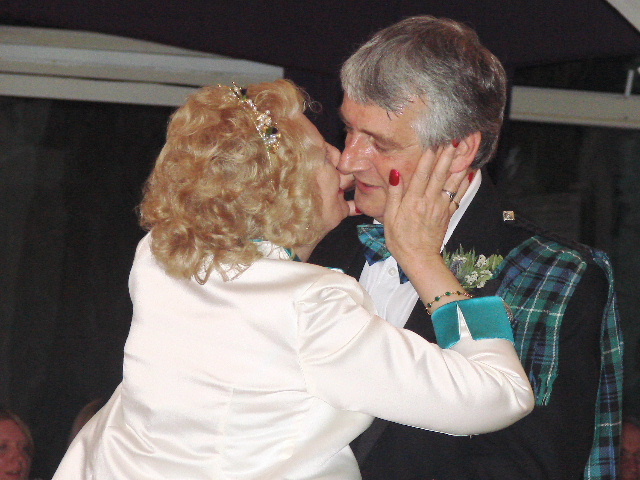 Feeding time!!!
Message of thanks from Annie (28/07/07)
"I always wanted a party, and my wedding was the party of my life. I had a wonderful time from the moment I awoke until the time Andrew and I crawled into bed. The walk down the isle was a revelation, to see everyone looking so handsome, and to see the efforts everyone had made to wear their best bibs and tuckers. I was very touched, moved, and delighted. I just couldn't wipe the smile from my face the whole day. The Kirk felt full of love, joy and good vibes the whole time. The ceremony, the reception, the speeches, the laughter, the food, the dancing, was wonderful. My only regret is that I didn't get round to chat to you all, so forgive me for that. You all made the day, I felt buoyed up on a tide of affection and love that I will treasure for the rest of my life. Thank you all for that, and for the generous gifts you have showered upon us.
Thank God for the day Andrew came into my life, I am proud to say that I simply love him, he fills my eyes and my heart. I am so glad that he is the one I will spend the rest of my life with, and I wish to thank his fabulous sons, Neill and Ewan, who have welcomed me so sweetly into the family. However, he was not alone in creating them, and I pay tribute to Ruth for her part in producing two such fine young men.
Finally, a big thank you to you all for coming along, from far and near, to share our wedding, made all the more special by your presence.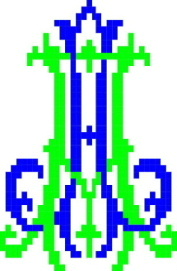 The "Official" A & A Wedding Logo! The letters A & A intertwined
(and NOT something else as suggested by the "best men"!)