My name is Linda Bibby and I am a Tropic Skincare Ambassador covering East Central Scotland and beyond from my West Lothian base.
We have our personal Tropic Skincare and Beauty websites where you can buy all Tropic Products. If you buy your Tropic products though my personal site I will always personally available to you by phone, text, messenger or e-mail with advice on how best to use these wonderful natural products. You have the same protection and money back guarantee and have the advantage of being able to talk to someone to get advice on any aspect of the products and how best to use them. Phone 07742 063 080 or e-mail tropic@lindabibby.com
If you are interested in becoming a Tropic Ambassador like me, phone 07742 063 080 or e-mail tropic@lindabibby.com Sign up online - No matter where you are in the country I will support you by all media available to me, I will also arrange training for you - click here and then click The "Become an Ambassador" panel
If you are a West Lothian resident phone 07742 063 080 or e-mail tropic@lindabibby.com to order the products and I will deliver them to you for free, and if out with this area think of me as your personal contact - I will always endeavour to help!
You can now buy Tropic products online (Click "Shop from Me" when page opens)
If you would like to host a VIP Tropic Pamper Experience - morning, afternoon or evening and earn 15% of the sales to spend on your own Tropic products I will be delighted to tailor your pamper experience to suit you and your guests.
Would you like to join my enthusiastic and happy team and become a Tropic Ambassador earning of upwards of 25% basic commission we would welcome you warmly.
On my online shop as well as ordering products, you can sign up Pamper experience or to become a Tropic Ambassador Click here
Linda became a manager in September 2016 and was recognised by being on stage with joint owners Lord Alan Sugar and Susan Ma. Every day Linda thanks herself for making one of the best decisions of her life by joining the Tropic family.

Linda with Susan Ma January 2016
| | |
| --- | --- |
| | Over 100 Prestigious Awards won |
| | A family of over 12,000 Ambassadors - |
| | The Sunday times Virgin Fast Track 100 as the UK's fastest growing brand. |
| | Our multi award-winning range has grown to over 100 products |
| | Founder Susie Ma is one of the 2018 Forbes Under Thirty List |
The Tropic Autumn/Winter catalogue 2018 is now available *New Products
The company and hold two Tropic Ambassadors
events are held each year where we get together
to hear about new products and where Ambassador's
achievements are recognised by founder MD Susan Ma
(2011 Apprentice finalist) and Funding Partner Lord Sugar.
| | |
| --- | --- |
| | In Sept 2018 it was "The Greatest Show" |
| | In March 2018 it was "Tropic Air" |
| | The theme In September 2017 it was "Diamonds are Forever" |
| | In March 2017 it was "Cirque du Tropic" |
| | The theme in Sept 2016 was "Moulin Rouge" |
| | The March 2016 theme was "Midsummer's Night Dream" |
| | In September 2015 it was "Moroccan Dreams" |
| | In March 2015 it was "The Glammies" - just like the Oscars! |
| | The September 2014 the Theme was "The Mad Hatters Tea Party" Click here to watch the video |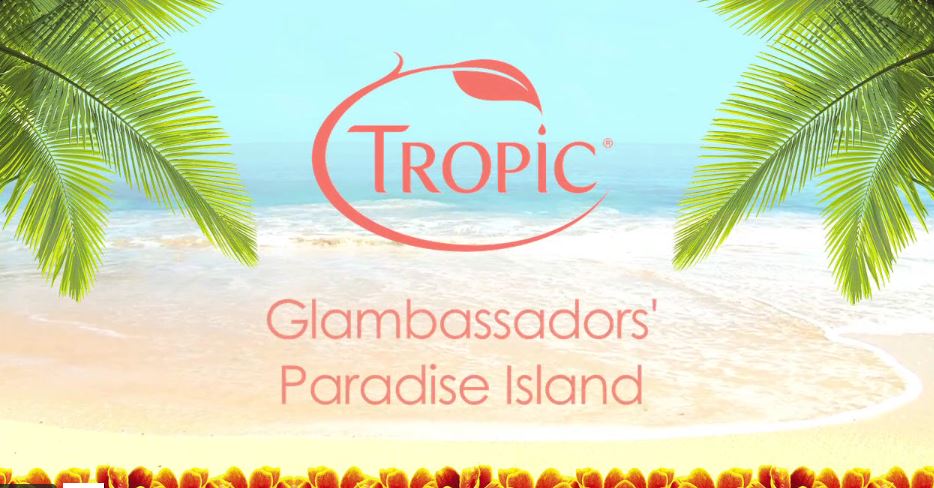 In March 2014 the theme was "Paradise Island"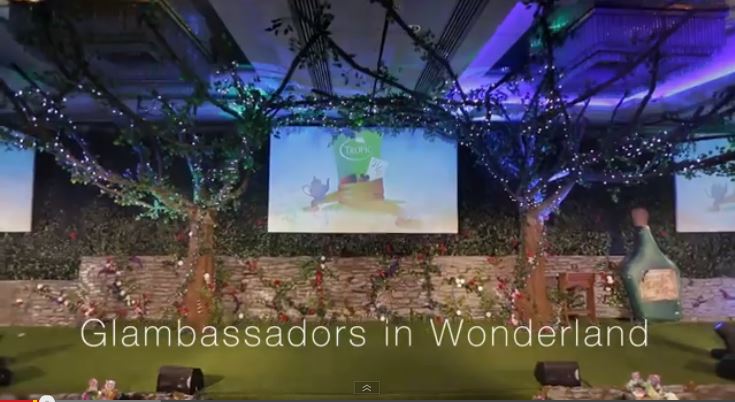 which was my first Tropic Event!
It was so exciting and they get better each time.

Click the picture to watch the video of the March 2014 event
If you a Club Secretary or similar that is looking for a subject for your meeting? We will be delighted to give a talk and demonstration of our products with no selling involved, as we believe once experienced the products will speak for themselves!
Phone 07742 063 080 or e-mail tropic@lindabibby.com
Products include - | Smoothing Cleanser | Vitamin Toner | Skin Revive | Face Smooth| Mineral Mask | Clay Mask | Radiance Eye Refresh | Eye Revive | Organic Elixir Oil | Tamanu Balm | Body Smooth | Body Love Buttercream | Organic Luxury Oils | Superfood Hand Therapy, | Smooth The Senses Oil and Body Wash | Awake the Senses Oil and Body Wash | Instant Glow | Summer Sun | Night Repair | Active Botanical Foundation | Illuma Sculpting Palette | Make Up | Gel Liner | Lipstick | Lip Liner | Lip Love Balm | Bamboo Face Cloth
Buy Tropic products now online here (Click "shop" when page opens)
If you are based in West Lothian, Edinburgh or East Central Scotland,
I may be able to deliver to you for free !- order by phone or e-mail and not via the website

www.lindabibby.com