Head, Shoulder, Neck and Face Massage
The use of and adaptation of classical Swedish Body massage techniques, manipulating of the tissues of the scalp, face, neck , shoulders, upper arms and upper back.
The massage is carried out with the clients in a seated position and can be done either through upper body clothing or using towel draping with the client partially clothed.

For clients not used to full body massage this treatment provides a gentle introduction to bodywork. It is also useful as a quicker stress busting treatment.
Many of the benefits of full body massage are also embraced within this abbreviated treatment.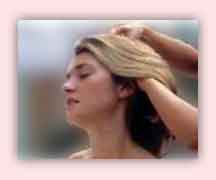 General Advice for Clients before a massage session
| | |
| --- | --- |
| | Please avoid alcohol before massage |
| | If you wear contact lenses please remove them before Head Massage |
| | Please ensure that Renee is informed if you have a nut allergy to prevent allergic reaction to oils used. |
| | If you are due to eat within two hours of the session please eat sparingly. |
| | Please avoid using hair styling products and arrange hairdressing appointments for after the massage! |
After Care Advice for Clients
| | |
| --- | --- |
| | Drink plenty of water following ant treatments as this will flush out toxins which have been released from the tissues into the organs of the body which deal with toxin removal. |
| | Do not eat a heavy meal as this may cause a feeling of nausea, instead, eat sparingly perhaps fruit, rice and vegetables and allow your body to rest and use its energy on cleansing and healing rather than on digesting food. |
| | Reduce tea and coffee for 24 hours after session and avoid smoking (or cut down) |
| | Replace tea and coffee with water, fruit and vegetable juices and herbal teas for a short time. |
| | Avoid alcohol for the first 24 hours |
| | Take time to relax and be quiet within yourself and to serve your mind and body by giving them time to cleanse and heal. |
| | If exercising take gentle exercise rather than stimulating sports e.g. gentle swimming, cycling and walking. |
| | Have a warm bath or shower to aid the relaxing of muscles and the mind. |
Any further questions, or to make an appointment?
Don't hesitate to e-mail Renee here
or phone 01506 852875

Fees and Apointments | Contact Us | About Us
| | | |
| --- | --- | --- |
| | | |
| | | |
| | | |
| | "The Universal Life Force" | |
| | | |
| --- | --- | --- |
| | | |
| | | |
| | | |
| | "Pregnancy Support" | |
| | | |
| --- | --- | --- |
| | | |
| | | |
| | | |
| | Holistic Body Massage. | |
| | | |
| --- | --- | --- |
| | | |
| | | |
| | | |
| | Gentle massage to head and upper body | |
Contact Renee for an appointment
by calling
01506 852875
or
07970 064 742

or e-mail her by clicking here