Airbrush tanning to un-peely wally you !
Our mission was originally to rid Scotland of that affliction that affects the inhabitants - the dreaded condition of peely wallyism.. We knew as well as you that we have to make the population look "healthier" and that sunbeds are not the answer but safe Airbrush tanning is!

Unfortunately our landlord in 2008 sold the building where we had the salon and we had to move out and and it has not proved to be suitable to continue to undertake airbrush tanning.

As a tribute to the work done by our web designer (Annie's husband) we have however meantime left the rest of our page in place, however it does at least gives some background info on safe airbrush tanning!

From this.......
to this...........!
Going to a wedding, a party or just want to look healthy?
Airbrush tanning is quick, inexpensive and safe.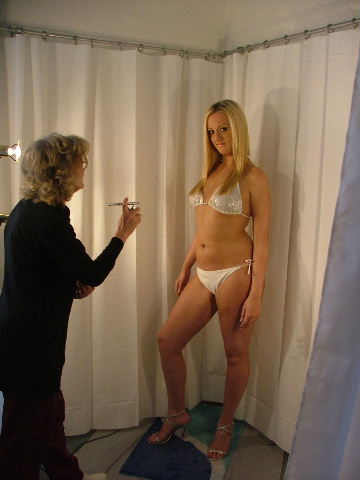 Annie with Danielle Lewis of East Calder (Danielle is regional winner of "Quiz" Model Competition)
Q.How Long does it take?
A. Allow 30 minutes for an appointment 5 min to get ready, 10 minutes for the airbrush tan, and 10 minutes to dry and 5 minutes to get dressed again.
Q.What preparation is required?
A. To achieve the best results, shower, exfoliate and moisturise before you come in.
Q. What should I wear?
A. Have loose clothing to wear after being tanned, for the tanning session itself wear an old bikini/underwear.
Q. Is the tan instant?
A. We used the Norvell Airbrush Tanning System that has been developed by professionals and works in two stages. Firstly a cosmetic bronzer will give you an immediate tan, which will fade as your DHA tan appears. Both are balanced so that your initial colour will be the same as the tan which develops (the science bit: DHA is the active ingredient in all sunless tans). You can control the colour of the tan; one application for that healthy glow, and a follow up session more for a totally bronzed look.
Q. How long will my tan last?
A. It will last between 4 and 7 days, depending on your skin type.
To maintain it for longer you should also apply a moisturiser daily after the session.
Q. Will my tan give me protection in the sun?
No. Our airbrush tanning system does not contain UV filters. Always remember to use a sunscreen for your skin if you are sunbathing as well.
Q. What is DHA?
A. DHA is the active ingredient in all Airbrush Tanning Solution. It interacts safely with the cells in the top layer of skin, causing them to darken and give a healthy looking tan.
According to the American Academy of Dermatology, the most effective sunless tanning products contain dihydroxyacetone (DHA) as the active ingredient. DHA is a colorless chemical (it is derived from glycerin) that interacts with the amino acids in dead skin cells to produce a brown colour change. Since these dead skin cells are constantly being shed, the colour change produced by DHA usually lasts about five to seven days.
DHA is not absorbed through the skin into the body and it has no known toxicity. DHA has been listed with the Food and Drug Administration (FDA) since 1973, and has been used in cosmetic preparations for almost 30 years.
Q. I have blonde hair, will the Airbrush Tanning Solution stain my hair?
A. No, however if you have long hair it is advisable to tie it back while your face is being sprayed.
Q. Do you also do Guys and OAP's?
A. Yes we will do anyone, Men should shave first, and if you are "very" old we may need a little more solution (TO GET INTO ALL THOSE WRINKLES!) - but at NO extra charge!


We used the NORVELL Professional System
Web design by Zoom Web Designs e-mail andrew@zoomwebdesigns.co.uk